Take Control of Your Vehicle Repairs and Maintenance
Experience the most convenient way to get genuine spare parts, professional mechanics, reliable garages, and insurance companies among other features.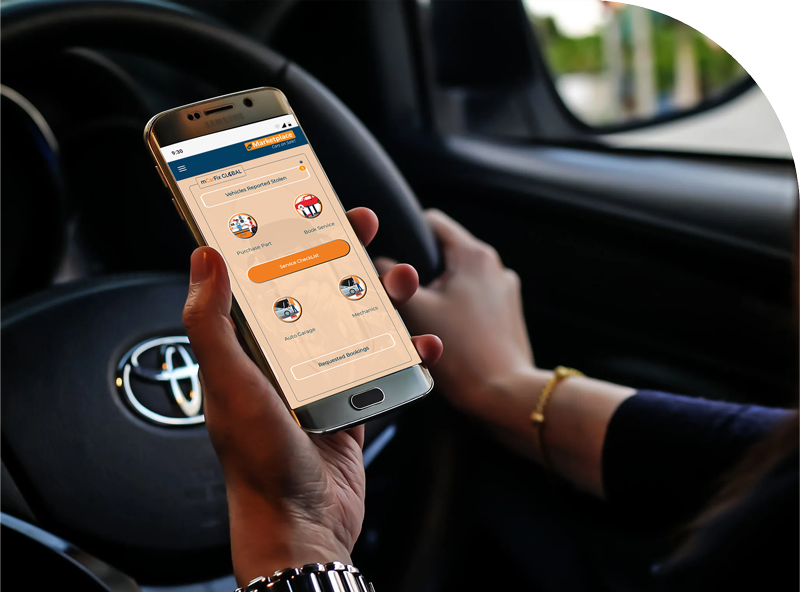 Your Number Plate is Your Car Solution
Use Your car's registration number to solve your car problems.
You no longer need to worry about your car problems even when you have important appointments. Just enter your car's registration (or VIN) in MCarFix and the App instantly identifies nearby mechanics qualified to repair your car and even links you up with them.
And when you need spare parts for your car, just key in the spare part that you need and MCarFix app uses your car registration number to identify the nearest stockists of the spare part and at your preferred prices.
And the best part of it;  you don't need to know the spare part name. The App helps you identify the spare part that you need and shares critical details about your car with your preferred stockist thus ensuring you get the right spare part. At the click of a button, MCarFix also updates you on the service status of your car and manages the booking process while keeping you updated on the servicing process once you take your car for servicing. You can even sell your car by posting it on the MCarFix 'Market-Place' and the App keeps you updated on the performance of your advert out there.
In case of car theft or accident, and at the click of a button, the App alerts your preferred insurance provider and fellow motorists in the App thereby making it easier to recover the car or get the much-needed help.
And there are also links to logbook financiers, towing and rescue companies, references for traffic rules and penalties and forums for motor vehicle enthusiasts where they can engage.
MCarFix is one App doing everything about your car for you.
MCarFix App for Learning Institutions
Enhanced safety for your learners and transparency in vehicle repairs and maintenance services.
Maintaining Your Institution's Vehicles Through the MCarFix Platform
Motor vehicle maintenance in educational institutions has been a major concern for every school manager around the world. This is because of the strict safety requirements and standards that our education authorities have put in place for the safety of both students and workers. These include mandatory vehicle maintenance programs and the keeping of proper repair records and costs.
Besides compromising on the safety of the students and workers alike, poor vehicle maintenance can greatly affect an institution's overall budget allocations especially if the service providers are untrustworthy and unreliable. Luckily, our latest innovation- MCarFix- is designed to address these and other challenges that education institution face.
The mobile App-which links motorists with mechanics, spare parts dealers, motor vehicle servicing centers, and insurance providers among others - ensure players within the motor vehicle industry seamlessly connect with one another to speedily resolve motor vehicle problems.
While the App seeks to address most of the challenges faced by motor vehicle owners and other stakeholders in the wider motor vehicle sector, education institutions are particularly the major beneficiaries of the MCarFix technology in that:
Accountability
All spare parts and services that are carried out on your institution's vehicles are automatically captured and recorded for future reference, thereby enhancing accountability.
Easy Planning
Like vehicle hailing platforms (Uber), the MCarFix technology ensures verified and qualified service providers such as mechanics, motor vehicle servicing centers, spare parts dealers, and insurance providers are at your disposal whenever you need them.
Your Preferred Mechanic
You can enlist your motor vehicle service provider (such as your preferred mechanic) in the MCarFix platform if you trust their reliability and professionalism. However, they must be verified by our team before being enlisted.
Transparency
You can book, track and monitor maintenance and repair services carried out on your institution's vehicles right from your phone thereby enhancing transparency.